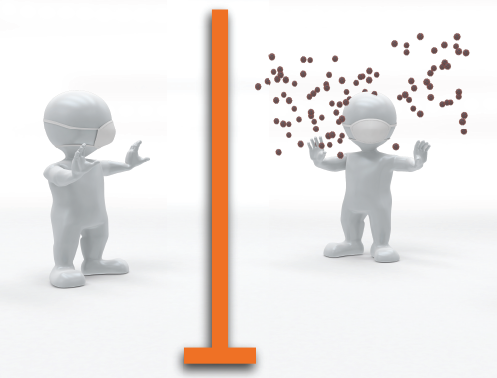 A return to work after Covid 19 lock down will see a very different method of working for many businesses.
Whilst some businesses will be able to and will see the merit in working remotely, others will have no choice but to bring the workforce back into the work place where direct communication or manufacturing is essential.
We as managers and business owners have a duty of care to protect our staff and customers alike against virus infection, part of this protection will come in the form of separation and demarcation of work stations.
N Smith have developed a multi-functional safeguard/informative sign for those employees who work in close proximity with other workers or customers, to protect themselves and others from involuntary infection.

A perfect solution to assist in operating businesses following government guidelines.
Durable, double sided lightweight, recyclable multi-purpose cardboard.
Multi use product to segregate workstations in factories and offices, or as a notice at receptions, entrances or in and around buildings and shop floors.
Optional pockets for PPE or workstation equipment limiting the need to leave stations.
Easy to assemble from flat packed postal outer.
Available from stock as standard, as seen in photograph.
We can make this product bespoke to your requirements and branding for quantities over 25 pieces.
A perfect temporary, disposable cardboard solution, which is robust, easy to install and at an affordable cost.
Call us now to order or register an interest whilst stocks last on
0121 557 1891.