Household name Royal Canin approached N.Smith with an idea to produce a promotional Kitten Starter pack to be sold online and in retail outlets.

Initially the brief was simple, to produce a fully printed litho laminated box to hold multiple items which opens from the top.
Things get more complicated with the idea of having a cat scratch mat with printed edges fixed to the bottom of the box which is detachable and leaves the base of the box intact once removed.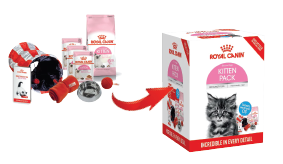 Continue reading

"Royal Canin Kitten Starter Pack"